Mount Royal Watches
If you're looking for a classic timepiece guaranteed to make an impression, look no further than the Mount Royal pocket watch collection. Here you can explore a beautiful array of pocket watches, nurses fob watches and pocket watch accessories, ideal for the timepiece connoisseur. Whether you're looking for a thoughtful gift for someone special or for an exquisite finishing touch to your look for a special occasion, a Mount Royal pocket watch is a wonderful choice. Explore sleek silver pocket watches, classic gold pocket watches and unique rose gold styles to discover the perfect option for you.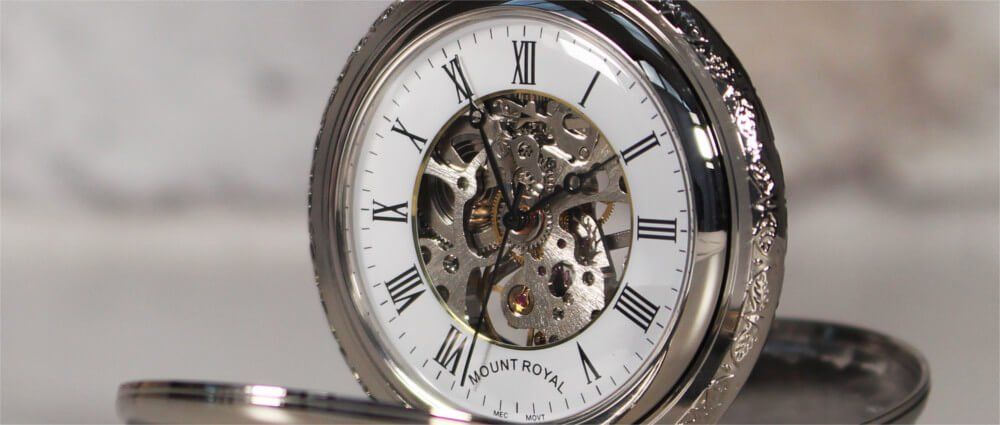 Explore the latest designs and discover the Mount Royal pocket watch collection from the UK's leading Mount Royal seller, Pocket Watch. Treat yourself or someone special with a personalised Mount Royal pocket watch with our high quality engraving service. Each pocket watch comes with a matching chain and presentation box so don't miss out, explore the range below.
OUR MOUNT ROYAL RANGE
Mount Royal Pocket Watches are yet another example of the range of high quality timepieces stocked here at Pocket Watch. There are some truly beautiful examples in this category as well as unique designs and themed watches. There is the Mount Royal full hunter pocket watch as well as other styles such as the double hunter, open face, half hunter and skeleton pocket watch. There are also some examples of Mount Royal masonic pocket watches, pendant watches and fob watches with either mechanical or quartz movements.
Also available at Pocket Watch
We also stock a range of other accessories such as stands and chains which can help to complete your ensemble. Our engraving service may also be of interest to you as you are able to have a special, personalised message engraved on your selection. It will make a wonderful gift for a special event or occasion such as a wedding or notable anniversary.
To learn more about our range of pocket watches and accessories as well as other quality products from top band names such as Jean Pierre, Rapport, Sekonda, Woodford and Limit, please call a member of our sales team on 024 76501002. Alternatively, you can drop us an email or fill in our simple contact form and we will get back to you as soon as possible.
Free uk delivery
All orders are despatched via the Royal Mail, we may require a signature upon delivery. We aim to dispatch orders within 24 working hours.
FIND OUT MORE >
Free bespoke engraving
Why not add an engraving to your pocket watch to make a gift or occasion extra special, guaranteed to be cherished by the recipient for years to come.
FIND OUT MORE >
Free cleaning cloth
All pocket watches come with a free micro fibre cleaning cloth to help keep your pocket watch as prestine as the day you received it.
FIND OUT MORE >
Back To Top