Woodford Watches
Whether you're on the lookout for a new accessory for a special event or you're trying to find the perfect gift for someone special, look no further than the collection of Woodford pocket watches. From intricate Woodford mechanical pocket watches through to modern quartz watches, here you can explore a vast array of exquisite Woodford pocket watch designs to suit anyone and any occasion. Choose a silver pocket watch with decorative casing, or take a look at a number of personalised pre-engraved Woodford pocket watch options.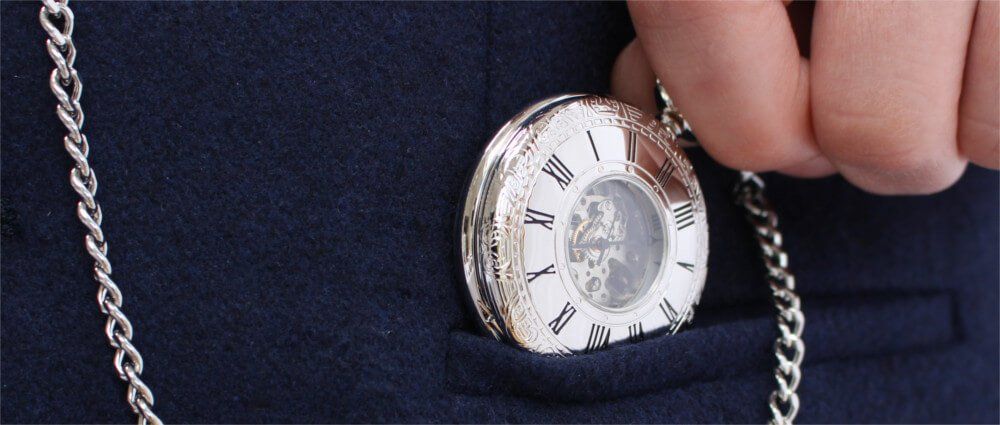 Take a look at the many styles to choose from in the Woodford pocket watch collection and discover the perfect timepiece. Many of the pocket watches are suitable for engraving for that special occasion so why not treat yourself or someone special to a personalised Woodford with our quality engraving service. Each pocket watch comes with a matching chain, presentation box and full guarantee.
Another famous name in the world of pocket watches is Woodford and at Pocket Watch, we are delighted to be able to draw your attention to this beautiful collection of timepieces.
Woodford pocket watches show all of the class and quality that you would come to expect from a company that was formed in 1860. That's more than a 150 years experience at designing and delivering great products to the market. These lovely timepieces are enjoying somewhat of a resurgence and although still popular as special gifts are becoming more and more mainstream. If you considering purchasing a pocket watch as a gift for someone, you may also want to consider getting it engraved to make it extra personal! See our engraving service to learn more about what we can do for you in this regard.
For more information about Woodford wind up pocket watches, Woodford battery powered watches or anything else from this exceptional range, please call our sales team on 024 7650 1002.
Free uk delivery
All orders are despatched via the Royal Mail, we may require a signature upon delivery. We aim to dispatch orders within 24 working hours.
FIND OUT MORE >
Free bespoke engraving
Why not add an engraving to your pocket watch to make a gift or occasion extra special, guaranteed to be cherished by the recipient for years to come.
FIND OUT MORE >
Free cleaning cloth
All pocket watches come with a free micro fibre cleaning cloth to help keep your pocket watch as prestine as the day you received it.
FIND OUT MORE >
Back To Top